A Dog's Review: Bronco Sport is the SUV of the (Dog) People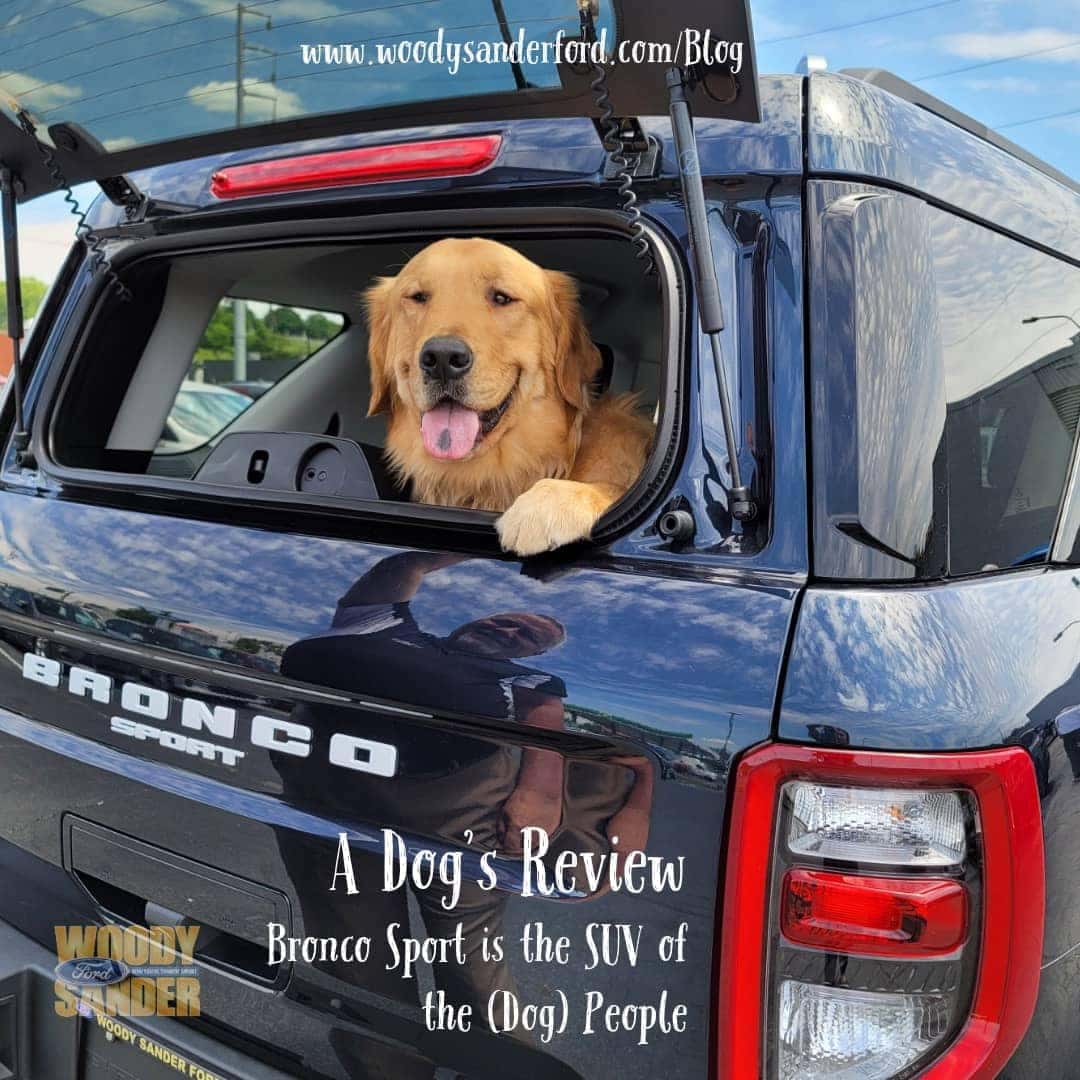 Woody Sander Ford has two official Spokesdogs that act as four-legged advocates. Recently, Gibby tested the Bronco Sport on behalf of all canine-kind in his quest to find the perfect dog mobile. It may seem silly, but friends of Southwest Ohio—getting to our dog parks and letting our best friends run free at places like Otto Armleder Park and Simmonds Family Dog Park means dealing with the dirt and mud in the car on the way home.
That's what Gibby torture-tested in the Ford Bronco Sport. As a Golden Retriever, his favorite things are running, mud, running through mud, rolling in mud, seeking out mud, water, running through water, food, snuggles, and snuggling people after running through mud and water. Whatever vehicle takes him to his favorite campsites has to be ready for some wear and tear.
Even if your dog isn't quite as mud-loving as a Golden Retriever, you'll want to hear about the dog-friendly features in the Bronco Sport. First—there are hooks and Molle Straps everywhere. Fasten your dog's leash while you tailgate and rest assured that he's safe and secure with you (PSA: never leave a dog unattended while hooked to the vehicle, never connect a leashed dog to a running car and obviously ensure your dog is safe and secure inside the Bronco Sport before moving the vehicle.)
Speaking of tailgating, fold out the optional cargo table and picnic, assemble your gear, or prepare your dog's favorite after-hike snacks. We loved the table and used it for water and some Paul Newman dog snacks from our favorite Pet Supply Store: Pet People in Rookwood (seriously, check them out! Gibby goes wild for this store!). For extended trips, Bronco Sport has accessories that can work together with the table like privacy curtains, a tent, etc. Contact Woody Sander Ford or click here for more information on accessories. Ford partners with world-class brands like Yakima and Bushwacker to make Bronco Sport customizable for whatever your dog…and you…want it to be.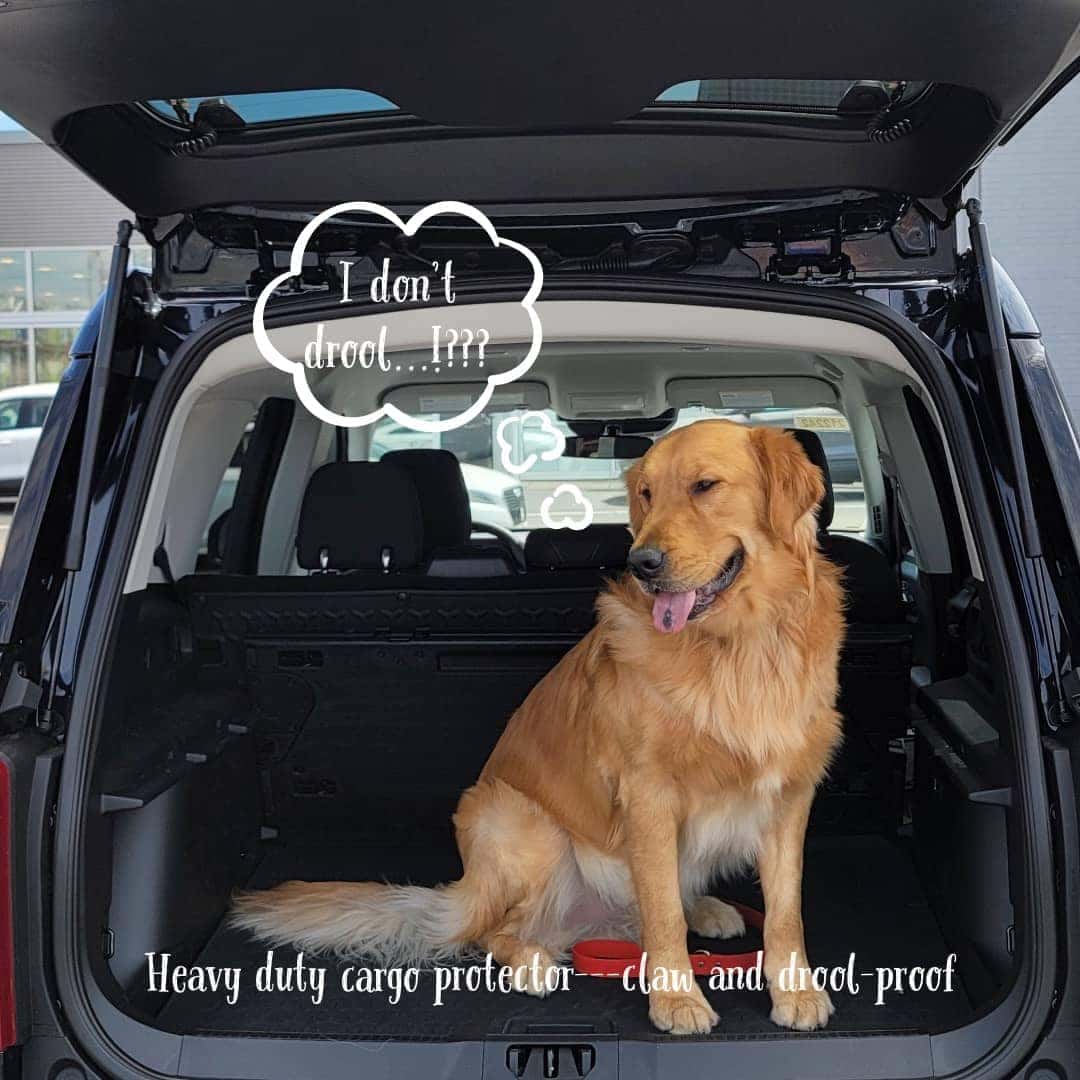 No matter how much you love your dog, muddy wet feet wreak havoc on your seats. That's why Bronco Sport has cargo space and seatbacks covered with a virtually impenetrable protector. No claws or drool is getting through this liner, and Gibby size-tested the cargo bay. At 105 pounds, we had bets on whether or not he'd fit—and the Bronco Sport's spaciousness surprised us all. After a mud-filled session hiking (and impromptu swimming) at Sycamore Park in Batavia, the cargo space was a lifesaver.
Most of what dog-lovers want from a dog-mobile is harnesses for a doggy seatbelt (Bronco Sport: Check), Rear Windows that roll all of the ways down for some wind-in-the-airs action (Bronco Sport: Check), tough-as-nails cargo area for those times when your dog goes off-the-grid (Bronco Sport: Check.) Then, add stylish good looks, a reasonable price tag, friendly technology, and durable 4WD. Bronco Sport checks all of those boxes, and for those reasons, Gibby gives the Bronco Sport 15/10 Stars.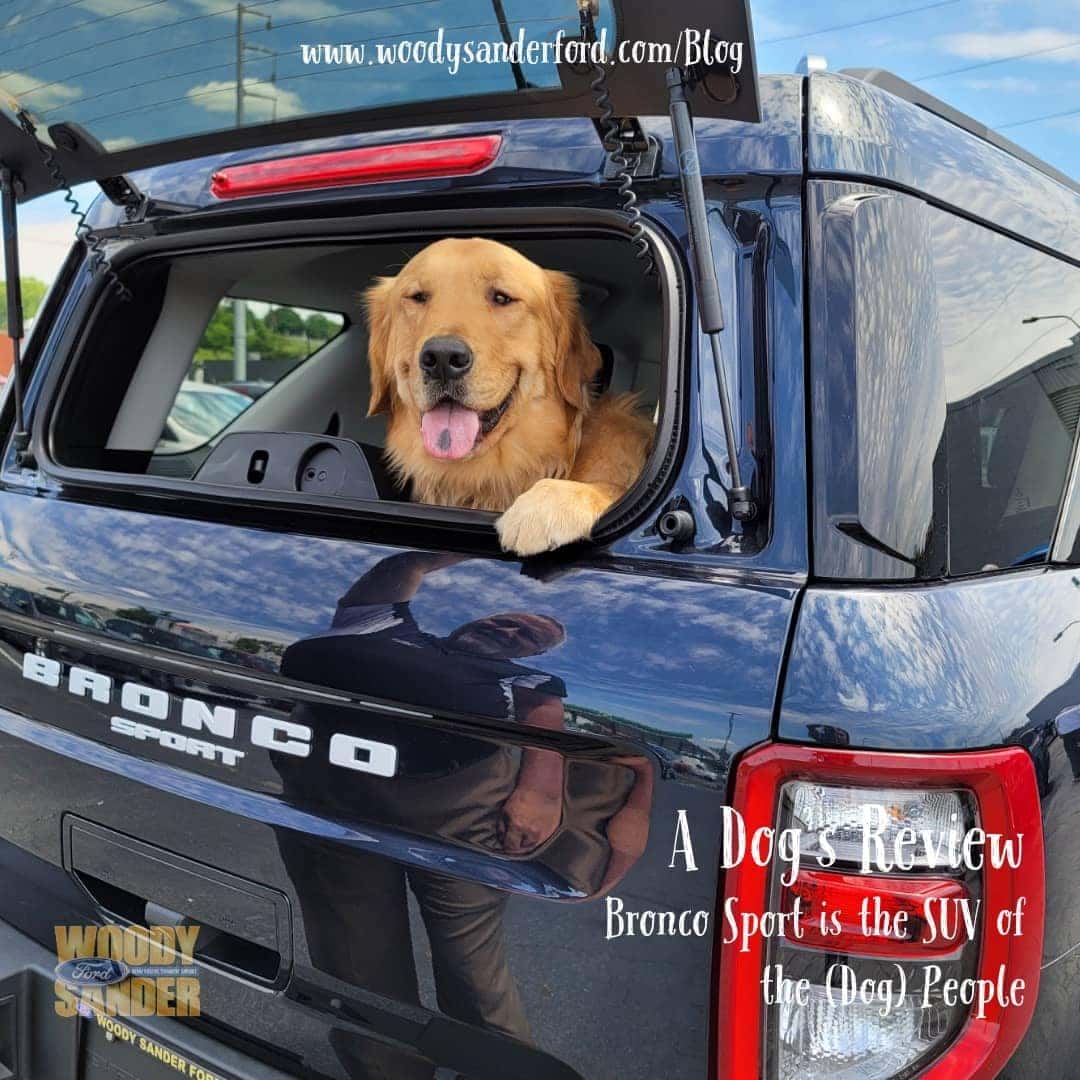 Bronco Sport as tested:
Big Bend Package
Alto Blue
MSRP: $30,250
Check out the Big Bend Bronco Sport at Woody Sander Ford